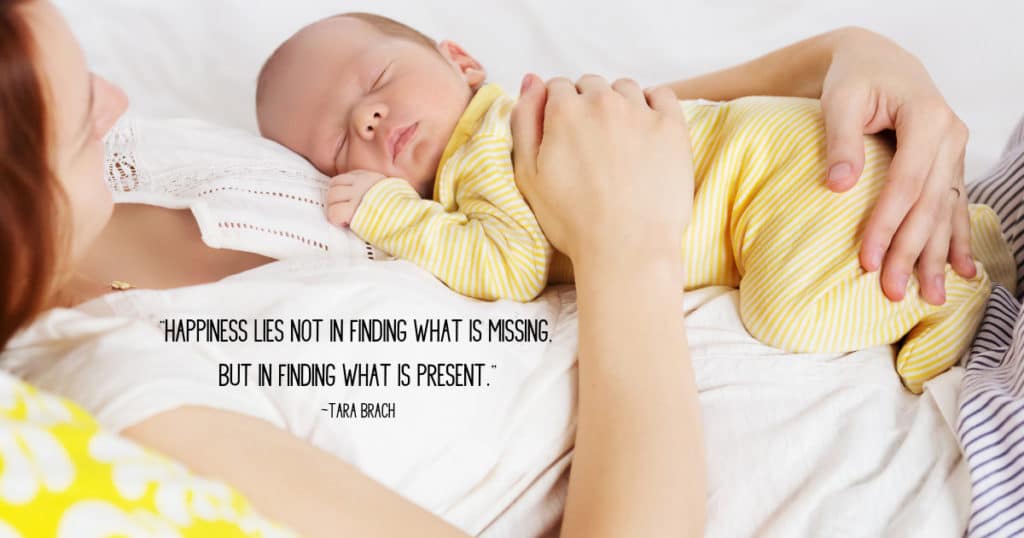 "Happiness lies not in finding what is missing, but in finding what is present." ~Tara Brach~
The floor is cluttered with baby things - a package of diapers and a half-drunk bottle of water that was parked by the door when you entered, a hungry baby in your arms, voicing her disapproval of outings. A car seat, a bouncy seat, a swing and a laundry basket lay cluttering your footpath from doorway to kitchen.
You're hungry yourself, but the demands of this adorable tiny tyrant coax you to the couch where you shuffle mail and laundry to one side and find yourself a place to sit. A sigh slips from your soul. You long for someone to bring you a cool drink, to rub your tired feet.
Your mind lands on three months ago when women showered you with baby gifts and asked how you were feeling. Those days when you could hardly stand waiting another minute for this little one to arrive.
"It goes by so fast," you've heard the seasoned mother regretfully say, but at the moment it can't go fast enough. Stomach rumbling, t-shirt dappled with spit-up, you stare down at your baby.
Wondering...where is the happiness in this moment?
And from somewhere, the seasoned mother with her babies grown and gone, whispers...
Happiness. Look for the moments and wherever you can find them, grab hold. The things you find yourself missing will one day be back in place, as the little one that lays in your arms toddles off to explore the world, leaving you with only the memory of this moment.
Make it a memory of happiness.